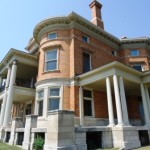 Winners of the HGTV and Zillow.com Doory awards were announced June 5, 2013. The iconic "Overview Mansion" at 412 W. 6th St. in Davenport, Iowa and presently for sale, won in the "DIY Dream House" category of the contest.
Alex Wolking, listing agent with Keller Williams, says the following: "The Doory Awards are a celebration of America's best homes for sale. The ultimate goal is to give unique, interesting properties a leg-up on any competing listings, and expose the home to an audience who would not normally look for homes like these." Mr. Wolking also noted that the publicity generated by the contest brought approximately 10 times the number of search result views and double the number of page views.
For further information on the contest, visit http://www.frontdoor.com/doory/diy-dream-homes. You can also visit Available Properties on this web site for further information on the listing.